While mopping the floor is a necessary part of cleaning, especially in bathrooms and kitchens, few people actually look forward to doing it.. Consider how much easier life would be if you didn't have to spend hours slaving over a filthy mop and buckets of water? Here comes the 10 best robot mops that i highly recommend.
1. Braava Jet M6 Robot Mop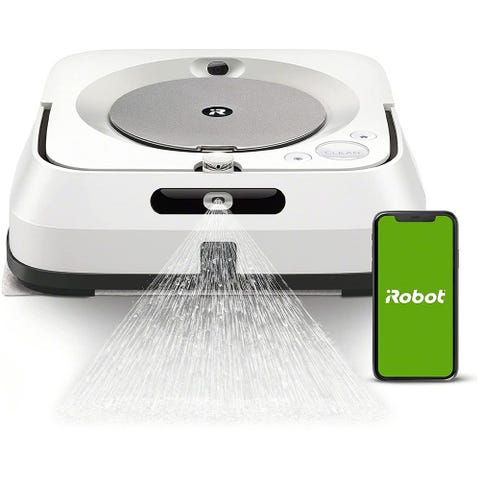 This robot mop comes with disposable dry sweeping pads and reusable wet cleaning pads. It sprays warm water over grime and sludge before a wet pad cleans dirt off hard floors. Let the Braava jet m6 dry-sweeping mode take up any pet hair and dust bunnies before wet mopping. In addition, Braava's Smart Mapping technology learns the most effective technique to clean your home's rooms, even on multiple floors.
The Braava jet m6's mapping accuracy improves with use, and the app lets you choose which rooms to clean, schedule cleanings while you're away, and even overlap passes for a deeper clean. The Braava jet m6's square design helps it to reach corners and mop baseboards. Braava returns to its charging dock to replenish its batteries and begins cleaning when it is ready to go out again. m6 can clean up to 1,000 square feet per charge. After cleaning, discard the dirty cleaning pad in the garbage or wash and dry the reusable ones.
2. Braava jet 240 Robot Mop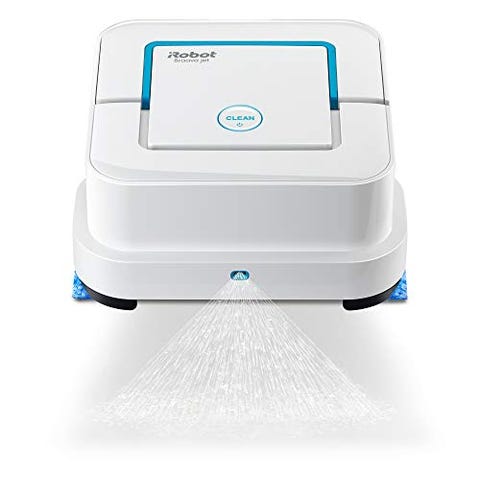 The iRobot Braava jet 240 is only 7 inches square and 3.5 inches high. It dry-sweeps to remove lint, dust, and hair before damp- or wet-mopping for a deeper clean. Fill the reservoir with hot water or iRobot Hard Floor Care. Also, even if the reservoir is full of water, the dry sweeping pad will not spray water. Disposable or reusable cleaning pads fit under the robot, making it even more budget-friendly. A button releases the disposable pad or the reusable pad into the laundry.
The Braava jet 240 cleans in a grid mode, employing bump navigation to navigate around bathroom pedestals, toilets, chair legs, and other objects. It recharges in roughly an hour. You can use the iRobot app to schedule cleaning, start and stop the robot, monitor battery life, modify the water spray level, and even set up a virtual border.
3. Jetbot Robotic Cleans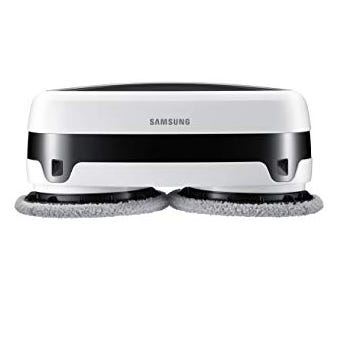 Samsung's two-pad Jetbot mop twice as much ground as other robots. A dry polishing set and a wet cleaning set are included. Fill the water reservoirs above each pad with tap water to keep it moist while cleaning.
Edges, filthy spots, random cleaning and more are all options. Easy to stow and use on stairs and other non-floor surfaces, the Jetbot's small design makes it portable. In addition, it doesn't self-clean and needs to be blocked off. Our tests showed that each charge lasts up to 100 minutes, which was enough time to clean a vinyl kitchen floor and a ceramic tile entry and hallway. And the soiled pads looked brand new after the wash.
4. L10 Pro Robot Vacuum Cleaner and Mop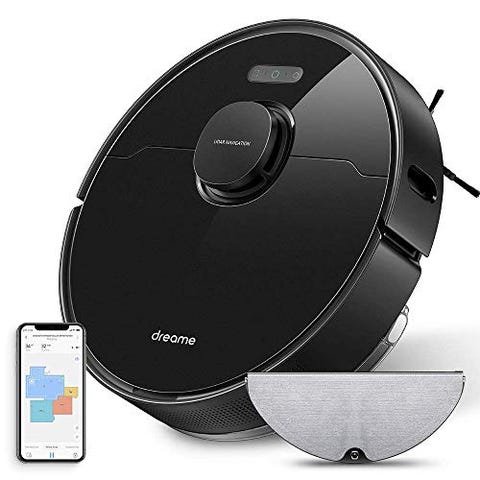 The L10 vacuum mop combo cleans swiftly and frequently. First, use its app to schedule and control cleaning. It cleans on the spot and understands when to return home, making it ideal for cleaning up pet hair. Soft bristles and rubber fins reduce tangling and make cleaning easier than stiff bristle brushes.
Its systematic walk across halls picked up dust and dirt easily. The bin is easy to empty, however because it is open on one side, some material may fall out. We liked the large water tank that didn't need to be refilled after cleaning the entire kitchen floor.
5. Deebot N8 Pro+ Robot Vacuum and Mop Cleaner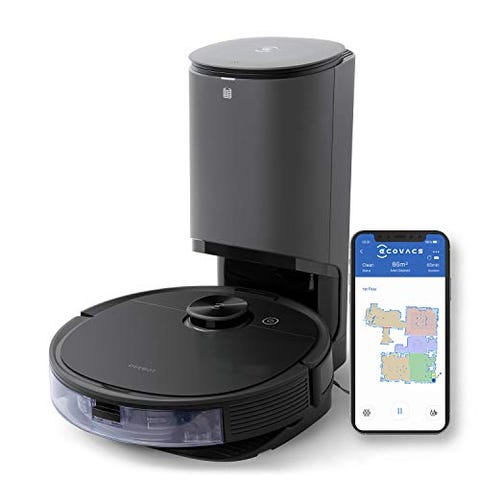 This smooth operator robot vacuum mop is wrapped like a gift. It maps a room's perimeter before cleaning the center, with voice prompts explaining what's going on. Its broad bristles reach deep into corners and gather up trash. The Deebot N8 climbed easily onto mats and rugs. It mapped the entire kitchen and slid under chairs and cabinet toe kicks with ease. We declare it the best for hardwood floors because it barely soaked our floor. After cleaning, it returned to its base and announced its completion.
Don't worry if it skips a floor part the first time. It did so for us, but returned without a crumb. Its sensors aid in its navigation. If it hits any furniture or walls, it's a light tap. The handle and empty-at-the-bottom design prevent dust and particles from falling back out onto the floor when the cup is removed.
6.
Deenkee Robot Vacuum Cleaner and Mop 2000Pa Suction
Easy access to more features and cleaning routines. The DK650 autonomous vacuum cleaner robot is Alexa and Google Assistant compatible, providing voice control. 2000PA suction power Achieves 2000PA suction power on hard surfaces and carpets. The Deenkee Robotic Vacuum cleans and vacuums quietly.
Nav gyro Deenkee vacuums and mop Robotic vacuum can clear dust, pet hair, and crumbs. Smart gyroscope navigation in "S" routes doubles efficiency and cleaning speed. Better than normal robot vacuums.
The Deenkee Robot Vacuum Cleaner's 160 minute run time for 1291 sq ft can clean large homes. After vacuuming, the robot vacuum returns to the charging station to replenish the battery.
7. 
OKP K3 Robot Vacuum and Mop
OKP robot vacuum with mop and cloth plate (no water tank). The OKP robot vacuum with wet cloth mop can effortlessly clean up juice, milk, jam, and other stains. Its 2000pa suction easily takes up breadcrumbs and confetti dust. Two side brushes help avoid clogging and hair tangling. Okp robot vacuum can clean the bed, sofa, and cupboard. Durable batteries The 1800mAh lithium iron phosphate batteries last for 100 minutes. It returns to the docking station to re-charge if it runs out of juice.
With new 6D anti-collision infrared sensors, robot vacuum cleaner can clean hardwood and carpet fully. You may clean your house while using the OKP life app or a remote control. Its broad dustbin cup and V-shaped filter spare your hands when cleaning. This hardwood robot vacuum will keep your home clean and free your hands.
8. 
bObsweep PetHair Robot Vacuum Cleaner and Mop Champagne
When Bob is around, cats and dogs can get along just well. The 1100 mL dustbin and TurboLift suction of this robot vacuum make it ideal for picking up pet hair and fur. When Bob's charge is running low, you can program up to seven days of cleaning per week, and he will begin searching for his charging station automatically. Attach a microfiber mop for a more polished look.
9. 
Xiaomi ROB Mi Roborock Robot Mop 2 Pro+
Xiaomi Mi Robot Vacuum Mop 2 Pro+ can detect and avoid obstacles with accurate computation and intelligence perception thanks to ToF 3D distance detection and obstacle avoidance technology.
The Xiaomi Mi Robot Vacuum Mop 2 Pro+ comes with a 250ml intelligent electronically controlled water tank and three water regulation gears. It has a 5200mAh lithium battery that can power the device for up to 3 hours in normal mode. The maximum size of a house is 250 m2.
10. 
Tesvor A1 
2-in-1 Robotic Vacuum and Mop
For a more thorough clean, this sweeper/mop combines the functions of vacuuming and mopping. With a brushless motor and two speeds of variable frequency cleaning, you can easily raise the suction of the A1 robotic vacuum cleaner to a maximum of 1000Pa.
To ensure that pet hair, filth, and waste are readily deposited into the dustbin, A1 robot uses a tangle-free pet hair management technology. When the 2600mAh high-capacity battery in the vacuum cleaner runs out or the vacuum cleaner is finished cleaning, it automatically returns to the charging station where it can be recharged.
Thank you for taking the time to read my list of the top ten best robot mops. I hope the options above help you choose the best product for your family's needs!